Wide Scope
Personal information
Real Name

Larry M. Kranseler

Birthplace

Newton, Massachusetts

Military information
Service branch

US Army

Primary MOS

Special weapons and tactics

Secondary MOS

Infantry; Negotiation; K-9

Rank

Sergeant (E-5)

Organizational information
Factions

G.I. Joe

Subteams

Spy Troops
A Special Weapons and Tactical specialist might seem redundant in a unit as elite as the G.I. JOE team, but not if you consider the degree to which his skills are specialized. If there is a locked door behind which there are an unknown number of armed hostile individuals and innocent civilians, it is up to WIDE SCOPE to kick the door down and let his canine go in first. Then he must assess the situation, choose an appropriate course of action, and carry it out, all in the split second between kicking the door down and firing the first hostile shot.
WIDE SCOPE is an extremely mellow, easy-going type of guy. He never seems to get excited about anything, maintaining a consistent, level attitude through the most disturbing and frightening situations. However, the one thing he is extremely sensitive about is his K-9 partner, Lamont, to whom he has bonded intensely and will never leave his side.
| | | |
| --- | --- | --- |
| " | Are you saying my dog has a sissy name? What's so sissy about Lamont? Well? I'm waiting. | " |
History
Canonical/Pre-MUX/Theme History:
Larry M. Kranseler was born in Newton, Massachusetts.
MUX History: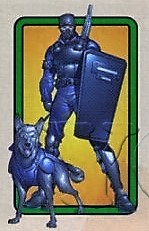 In 2016, Wide Scope was assigned to Autobot City security.
OOC Notes
Logs
Players
Wide Scope is available for application.
References
---
Is this all there is?!!
---
This character article is a stub and is missing information. You can help Transformers Universe MUX by expanding it.
Community content is available under
CC-BY-SA
unless otherwise noted.