Washington, D.C., formally the District of Columbia and commonly referred to as Washington, the District, or simply D.C., is the capital of the United States, founded on July 16, 1790. The City of Washington was originally a separate municipality within the Territory of Columbia until an act of Congress in 1871 effectively merged the City and the Territory into a single entity called the District of Columbia. It is for this reason that the city, while legally named the District of Columbia, is known as Washington, D.C. The city is located on the north bank of the Potomac River and is bordered by the states of Virginia to the southwest and Maryland to the other sides. The District has a resident population of 591,833; however, because of commuters from the surrounding suburbs, its population rises to over one million during the workweek. The Washington Metropolitan Area, of which the District is a part, has a population of 5.3 million, the ninth-largest metropolitan area in the country.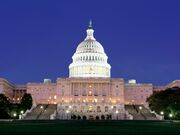 Article One of the United States Constitution provides for a federal district, distinct from the states, to serve as the permanent national capital. The centers of all three branches of the federal government of the United States are located in the District, as are many of the nation's monuments and museums. Washington, D.C., hosts 174 foreign embassies as well as the headquarters of the World Bank, the International Monetary Fund (IMF), the Organization of American States (OAS), the Inter-American Development Bank, and the Pan American Health Organization (PAHO). The headquarters of other institutions such as trade unions, lobbying groups, and professional associations are also located in the District.
The United States Congress has supreme authority over Washington, D.C.; residents of the city therefore have less self-governance than residents of the states. The District has a non-voting at-large Congressional delegate, but no senators. D.C. residents could not vote in presidential elections until the ratification of the Twenty-third Amendment to the United States Constitution in 1961.
Washington, D.C. on TFUMUX
In 2017, Cobra took over Washington, DC, and Cobra Commander moved into the White House.
In 2019, the city was freed from Cobra control by G.I. Joe.
Decepticon World
In the Decepticon World universe, Washington, DC has been taken over by Starscream and the Decepticons, and renamed New Vos.