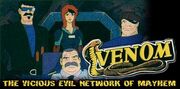 V.E.N.O.M. (Vicious Evil Network of Mayhem) is a Cobra unit formed to construct converting combat vehicles.
History
In 2008, Cobra Commander created V.E.N.O.M. to create Transformer-inspired converting vehicles, using control-mask technology stolen by Miles Mayhem combined with alien technology stolen from the Decepticons.
In 2015 Sly Rax recruited Major Bludd into working with VENOM.
References