Sunder9x9 is One of the long-running players and admin on the MUX, having been around since 1998. He is the father of a 1000 OCs and tons of entertaining RP.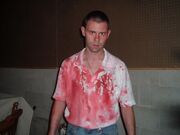 Characters
Feature Characters
OCs
Crush Depth, Lodestone, Os-Kar, Rainmaker, Repel, Reverb, Slickspin, Nightgaunt, Lowdown, Sunder, Digger, Thorn, Cheshire, Mortar, RV, Undertow 7189, Wrath
Temps
Former
Bombshell, Megatron (November 2007), Optimus Prime, Perceptor, Soundwave, Starscream, Storm Shadow, Herbert West, Shockwave Sunstreaker, Undertow
Veteran TFUMUXer since 1998
Community content is available under
CC-BY-SA
unless otherwise noted.