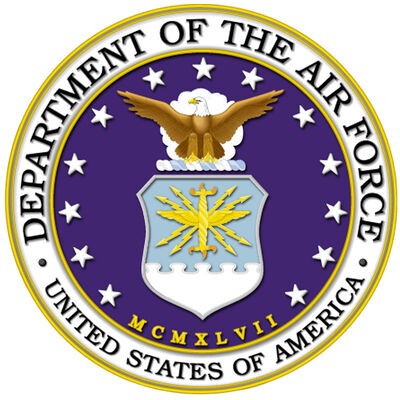 The United States Air Force (USAF) is the aerial warfare branch of the United States Armed Forces and one of the American uniformed services. Initially part of the United States Army, the USAF was formed as a separate branch of the military on 18 September 1947. It is the most recent branch of the U.S. military to be formed.
The USAF is the largest and most technologically advanced Air Force in the world, with 5,573 manned aircraft in service (3,990 USAF; 1,213 Air National Guard; and 370 Air Force Reserve); approximately 180 unmanned combat air vehicles, 2,130 air-launched cruise missiles, and 450 intercontinental ballistic missiles. The USAF has 327,452 personnel on active duty, 115,299 in the Selected and Individual Ready Reserves, and 106,700 in the Air National Guard. In addition, the Air Force employs 171,313 civilian personnel including indirect hire of foreign nationals.
The Department of the Air Force is headed by the civilian Secretary of the Air Force who oversees all administrative and policy affairs. The Department of the Air Force is a division of the Department of Defense, headed by the Secretary of Defense. The highest ranking military officer in the Department of the Air Force is the Chief of Staff of the Air Force.
MUX
Several Air Force officers and crewmen have been assigned to assist G.I. Joe full-time. For a list of them, see G.I. Joe Air Force.
External Links