As of 08/17/2020 (User:Bzero), Tyger Pax is
Neutral.
Autobots within the territory are viewed indifferently, Decepticons within the territory are viewed indifferently, and Unaffiliated Inhabitants are undisturbed.
How do I change this?
Tyger Pax was a circularly built settlement on Cybertron with a structure focusing on its center. It had the reputation of being idyllic and tranquil. Once an Autobot base, it now stands empty.
History
Pre-MUX History
Ironhide is from Tyger Pax.
MUX History
In 2015, Galvatron destroyed Tyger Pax and rebuilt it in an instant into a Unicron-tech ghost city.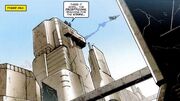 Later, Nemesis reversed the transformation, restoring Tyger Pax to its former glory. Incognito then enacted a plan to woo Nova Cronum's theoretical research labs (and their workers and scientists) to Tyger Pax.
Notes