This timeline is for the mainstream MUX. For the Shattered Glass universe, see Shattered Glass timeline.
This is a timeline of IC events on the MUX. Feel free to add events and link logs to the individual year pages.
For the full history of the Transformers, see History.
For a Listing of G.I. Joe ONLY Events, Check out the G.I. Joe Timeline. (Still in development)
For Witwicky family events, see the Witwicky timeline.
For the full Timeline, go here.
Our MUX functions on real time, so the current year is 2020.
Canon/MUX Back-History:
1984 - Autobots and Decepticons re-activate on Earth. The Autobots rescue Spike and Sparkplug from certain death after the Decepticons attack the offshore oil rig the two were working on.
1985

Several reinforcements arrive from Cybertron to help the Autobots; others who were on the Ark but not among those initially reactivated, finally get repaired and resume active service.
Aerialbots travel back in time to the beginning of the Autobot/Decepticon conflict.
Shockwave, in response to the growing warfare, builds Jetfire to boost the Decepticons' air forces. Starscream initially befriends Jetfire, seeing him as an asset to his command and potentially an ally and eventual XO, but Jetfire soon defects to the Autobots instead.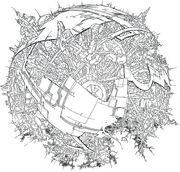 IC Years:
Harbinger and Outrider kill each other. (Harbinger eventually gets better.)
2010 -
2011 - Megatron, using hidden installations at the North and South poles, melts the icecaps and floods the Earth, doing even more damage than his attack in 2009. His installatons are eventually destroyed by combined Autobot/Cobra/G.I. Joe force.
2012

A combined Autobot, Cobra, and G.I. Joe force attempts worldwide to repair the damage caused by the Decepticon flooding.
Major Bludd begins an extensive tour of Africa, delivering Cobra propaganda as well as hope and much-needed medical supplies
During the Quintesson Invasion of Earth, The Autobots were heavily involved fighting the Quintessons and in the rescue of civilians from Los Angeles. The Decepticons assisted intermittently, with the exception of Nightlash, who was integral in the fight against the Quintessons.
Community content is available under
CC-BY-SA
unless otherwise noted.