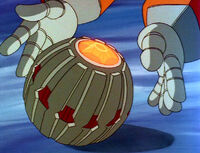 A transformation cog, also referred to as a transforming cog, transition cog, conversion cog, T-cog, or morphcore, is a component important to a Transformer's transformation.
Notes
In Generation 1-related fiction, damage to a transformation cog traps the Transformer in whatever mode they happen to be in (most often this is their alternate mode).
Foreign names
Japanese: Transform cog (トランスフォーム・コグ toransufōmu kogu)
Hungarian: T-mag ("T-core", Prime cartoon)
Italian: Ruota trasformatrice ("Transforming wheel", Generation 1)
References
See also
Community content is available under
CC-BY-SA
unless otherwise noted.