Tiger Force was a task force of the United States Army, 1st Battalion (Airborne), 327th Infantry Regiment, 1st Brigade (Separate), 101st Airborne Division, which fought in the Vietnam War.
The platoon-sized unit, approximately 45 paratroopers was founded by Colonel David Hackworth in November 1965 to "outguerrilla the guerrillas." Tiger Force was a highly decorated unit, and paid for its reputation with heavy casualties. In October 1968, Tiger Force's parent battalion was awarded the Presidential Unit Citation by President Lyndon B. Johnson, which included a mention of Tiger Force's service at Dak To in June 1966.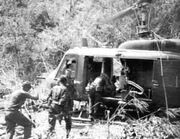 GI Joe Tiger Force
In 1988 Tiger Force was reformed as a subgroup within G.I. Joe. Uniforms were mainly yellow and green in color with tiger stripe design. Their vehicles were primarily yellow in coloring and had the same tiger stripe patterns. Tiger Force used G.I. Joe vehicles and captured Cobra vehicles. They were first deployed in September 1989 to Darklonia.
G.I. Joe Personnel
Allegations against Viet Nam Tiger Force
In October 2003, the Toledo Blade reported on members of the original Vietnam Tiger Force unit who had committed numerous war crimes — accused of killing, raping, and mutilating large numbers of noncombatant women and children. Since then the GI Joe force had used the name less and less, until 2015, when the unit was put back in service.
In the Shattered Glass universe, Tiger Force revels in just the sort of behavior the original Vietnam Tiger Force was accused of in the real world. When Defense Secretary Hauser wanted a person or village wiped out, he called General Flint, who used his hand-picked team of killers guarenteed to get the job done, preferably as messy as possible. With General Flint's death, leadership of Tiger Force has fallen to Psych-out, who relishes the psychological effects of wiping out an entire town of innocents.
Known Shattered Glass Personnel
References