This article is about the evil female-voiced Autobot computer - for her good male-voiced counterpart, see Teletraan I.
Teletraan-X is an bad Autobot computer from the "Shattered Glass universe.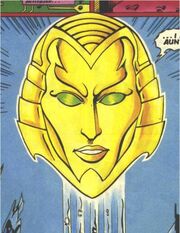 Teletraan-X is the evil, cold, female-voiced Autobot computer that runs their spaceship/base, the Ark. She's a stickler for regulations being strictly followed, and is willing to dole out punishment for any transgressions with her mechanical tentacles. She makes the ever-scheming Goldbug really nervous.
"
Command authorization not recognized. Further struggle will only increase the severity of your agony.
"

—Teletraan-X to Goldbug, "Eye in the Sky"
History
Shattered Glass
After the Autobots had initially recovered from crash-landing on Earth, Teletraan-X reported that the humans' GODS had taken out the Nemesis as well.
Community content is available under
CC-BY-SA
unless otherwise noted.