Sutherland Munition Works is a business in London.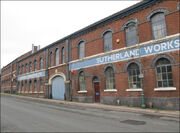 Sutherland Munition Works is a weapon supplier formerly owned by Derek Sutherland and headquartered in London, England. They are not choosy to whom they supply arms. They have dealings with large nations, small nations, and even terrorist organizations.
History
A Real American Hero continuity
In 1983, The G.I. Joes visited the owner of Sutherland Munition Works in London looking for information about Cobra. Even though Derek Sutherland told the Joes exactly what Cobra wanted him to say, Cobra Commander executed him anyway, likely ending all business between Cobra and Sutherland Munition Works.[1]
MUX continuity
Following the death of Derek Sutherland, ownership of the company passed to a succession of different corporations. In 2014 it was acquired by MARS and the name shortened to Sutherland Works.
References
Community content is available under
CC-BY-SA
unless otherwise noted.