This page is for the evil Shattered Glass version of Subsea. For his scaredy-cat main-universe equivalent, see Subsea.
"Now I'm mad! They're all gonna die!"
In the Shattered Glass universe, SUBSEA is an arrogant, take-charge kind of bot, always bossing people around and throwing himself into the fray. He saw himself as leader of the Wreckers someday, and was dismayed when they were wiped out before he had a chance to join their august mercenary ranks. As a high-tech futuristic submarine, Subsea is one of the few Autobots skilled enough to brave the Mithril and Rust Seas, and he never lets any of the other Autobots forget it. He also loves to bring gangs of Autobots down into the forbidden Underworld to prey on unsuspecting mutants, and he hopes to be deployed one day to Earth so he can kill a few humans there, too. The only group he fears is the Autobot femmes, after witnessing some of their handiwork firsthand. In their presence he's meek and subservient, although he has dark plans for them one day as well.
Description
Subsea's head is shaped somewhat dumbly, and looks like it might be the front of a submarine or a boat. He has fins on his arms and his legs, and is minibot-sized overall. When on land and out of danger, he looks like a young, eager Autobot cadet. Put him in danger, however, and he leaps into battle with the ferocity of a Predacon.
History
Pre-MUX History
When Emperor Prime announced his plans to launch an attack on Earth, Subsea persuaded his friend Flattop to join him in signing up for the Autobot army, and when they were looking for volunteers to form a new naval corps, Flattop followed him into that, as well. Subsea was hoping to lead the Wreckers someday, and was dismayed when they were wiped out before he had a chance to join their august mercenary ranks.
Flattop and Subsea were designed and trained to work with Broadside, but the Autobot Guardian will have nothing of it.
MUX History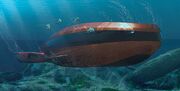 While Flattop and Subsea were assigned to Iacon guard duty in 2012, they unwittingly let main-universe Chromia and Firestar into the city because the Autobot guards were too afraid to question them. Flattop and Subsea have since spent quite a bit of time in the Agonizing Rehabilitation Chambers once the ruse was discovered.
OOC Note: Shattered Glass Wreckers
In the Shattered Glass universe, Rodimus was leader of the Wreckers, and the only one to survive when they were wiped out in Praxus-Delta by the Mayhem Suppression Squad.
Springer quit the Wreckers before the slaughter, and Broadside, Flattop, Sandstorm and Subsea were never members.
External links
References
Community content is available under
CC-BY-SA
unless otherwise noted.