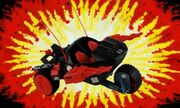 The Stun is a Cobra vehicle.
Stun
Machine information
Machine type

High-speed ground vehicle

Purpose

Patrol and pursuit

Military information
Service branch

Cobra Army

Designated pilot / driver(s)
Organizational information
Factions
Subteams
Features
Armaments:
2x twin-barrel "Blazer" 3.5 inch, high explosive rocket launchers with 400 drum-fired rounds each*
1x "round-off" 9mm machine gun with circular ammunition drum
Crew Capacity: 4 man crew
Weight (fully loaded): 4.2 tons
Speed (fully loaded): 75 mph road; 44 mph cross-country
Range (fully loaded): 340 miles
History
Comics continuity
Stuns were first deployed in battle by Cobra in 1986.
MUX continuity
The Dreadnoks stole a number of Stuns in 2004 and tricked them out for their own purposes.
Preferred Drivers
Variants
Python Patrol
Several Stuns was covered in an experimental stealth technology as part of the Python Patrol.
External links
    Write up

Footnotes
Where are the schematics for this?!
---
This vehicle/weapon article is a stub and is missing information. You can help Transformers Universe MUX by expanding it.