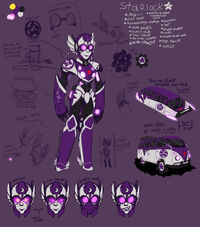 Name: Starlock
Faction: Autobot
Species: Transformer
Function: MEDIC
Division: Autobot Medical
Sub-Group: Mini-Bots
Type: OC
| | | |
| --- | --- | --- |
| " | We need to keep moving forward, and not looking back. | " |
STARLOCK is normally a quiet, ever-tired Mini-Bot medic. Most times she'd rather listen, draw, or have her nose in a book. She does genuinely like her Job, as she would rather heal then hurt. However, she will defend her patients to the death if that is what's needed. When faced with a problem or injustice, she does whatever she can to try and fix it, due to her desire to do what's right and just, no matter what it takes. Starlock wants to give hope to those caught in the war and prove herself a reliable leader. She yearns to show that the war can end on good terms. However, her anxiety and poorly developed social skills often make her seem more aggressive than what she really is. She is a Triple-Changer with a space capable alt but is unable to leave the atmosphere on her own power.
History
Canonical/Pre-MUX/Theme History:
Starlock was forged in Harmonex before it first fell. She was a librarian and archivist there with no abilities or weapons to her name. When the war started, she didn't pick a side for a long time. But hearing of tragedies day after day, as well of the numbers of bots who had died, who's names would never be remembered, it all wore on her. When she realized it wasn't going to end, she realized she couldn't just stand idle anymore, waiting for someone else to fix it. She did her research, and eventually decided, the most good she would be able to do, was with the Autobots, despite knowing she was dooming herself.
There were many events in her life that shaped her, and broke her, resulting in her anxiety, but she didn't give up and kept herself moving forward, to attempt to ease what suffering she could, and correct what wrongs she could, even if it was hard.
MUX History:
Starlock returned to Cybertron in 2019. She helped found New Harmonex and was involved with freeing the Combaticons from their forced loyalty program in 2020.
In 2021, Blaster, Signal Flare, and Starlock witnessed Omen emerging from Ghost's frame, confirming Ghost's capacity as a host and Omen's existence as a symbiote.
In 2022, Starlock was promoted back to Sergeant, and then later infected by Doc with Silica's song.
Technical Data:
OOC Notes
Starlock has a holomatter avatar.
Logs/Posts
1988
2019
September 14 - "Brandishing the Banshee" - Starlock gets her chance to talk to Banshee about what they may be able to do to convince Megatron to play the political game.
November 18 - "Spelunking for Crystals" - Scales investigates the holes in the ground left by Fortress Maximus previously.
November 19 - "Performance Review" - Cerebros, Spike, and Fortress Maximus all consider what could have gone better.
2020
Janurary 03 - "Asking For An Incident" - A fight between breaks out between Imager and Soundwave, and spills out of control when Starlock tries to stop it, and get them to talk civilly.
Janurary 03 - "What Goes Unseen" - Starlock goes back to check on Soundwave, where a promise is made.
Janurary 30 - "A Wayward Dawnfire" Starlock meets an AWOL Autobot by the name of Dawnfire.
March 10 - "Radio Panic - Darkmount" - An explosion to happen on the Decepticon communications link, but Blast Off has other priorities!
March 16 - "Negotiations for Harmonex" - Crosscut and Spike come to Harmonex and help Starlock in negotiating its release.
March 19 - "Taking Solace in Solus"- Solus Prime and Starlock finish a long overdue gift for Ratchet...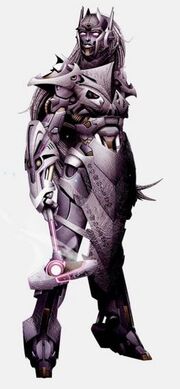 March 20 - "Fragmented Melodies" - Imager gives a ultimatum to Illarion and Starlock, and one of the two struggles to accept such circumstances.
March 20 - "Ratchet's New Hands" - Ratchet asks Starlock to help install his new hands and he also helps console her.
May 12 - "IRC LOG: Dates" - Ghost ends up having a VERY strange conversation after bringing up she has a date.
August 19 - "Code Aberration" - Visiting Calyhex after passing a message from Trypticon, Omen comes to the conclusion that yes, seeing things is not at all normal. Seeing things can hurt.
August 22 - "Frozen Find" - Joes uncover a frozen mostly dead Cybertronian in Alaska and ask for help. A random assortment of helpers arrive.
2021
---
01/05 - "A Little Project" - Starlock asks Ratchet for a bit of help in improving herself.
January 08 - "Rec Room Remedies" - Ratchet and Starlock get into deep philosophical talk while watching TV.
March 03 - "A Place For Me" - Crosswise comes to New Harmonex and is given an offer by Starlock.
2022
Mar 17 - AAR: Civilian Rescue
                    After Action Report: Civilian Rescue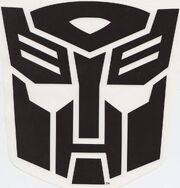 To: Command
Security Level: General
Subject: After Action Report
---
>>Starlock coughs as she appears on screen, looking to be in Valvolux of all places.<< 

Medical Officer Starlock reporting in to uh... report on the emergency situation we had last night where a Civilian ship to Valvolux crashed in the decepticon territory of Tesarus, after hearing on the planet comms its distress signal... I, and Dust Devil made preparations and set out. 

I went out ahead and snuck in using my color scheme, small stature, and a handy black cloak to sneak in, while Dust Devil 'borrowed' one of the shuttles to aid in ferrying the injured back.. Upon getting there, Motormaster and Razorclaw had bound most of the survivors. I wasn't spotted, and the two instead chose to focus on Illiron who'd also made her way into the city... Dust Devil had also been spotted with the shit, The two decepticons then attempted to use the ceasefire as a way to try and gode Dust Devil and Illiron while they harmed, and threatened death to the survivors.. 

However, Illiron astutely pointed out, the Dominicons didn't agree to scrap, and thus she engaged the two while I snuck over and started cutting bindings, and sending to Dust Devil as a half-way point to get them into the shuttle with the help of his forcefield. 

Once all were released and we'd helped those too badly injured into the ship, we left, Illirion also joining in leaving, I don't think I was ever spotted in any of that.. all the same Dust Devil and I did not shoot, nor break the ceasefire agreement... The Civilians are now at Valvolux's medical facilities. 

        - Medical Officer Starlock. 

>>Attached to the file is the raw video dumb of the incident from Starlock's perspective.<<

---
Players
Created and played by Atlantahammy.
References
Is this all there is?!!
---
This character article is a stub and is missing information. You can help Transformers Universe MUX by expanding it.