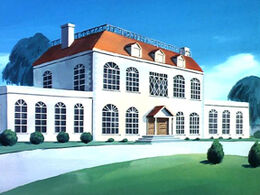 The Starlight Mansion is the second and current home used by the Starlight Foundation. Both The Holograms and the Starlight Girls live there.
History
The mansion was offered as a reward during The Battle of the Bands between Jem and The Holograms and The Misfits by Howard Sands. After the original Starlight House was accidentally burnt down during a break-in caused by Zipper, under Eric Raymond's orders, Jerrica and The Holograms used it to house their foster girls until the Battle of the Bands was over. Prior to the battle, The Holograms had to relocate Synergy to the mansion after her location at the Starlight Drive-In became compromised by a private investigator sent by Eric to find out who Jem really was. When the battle was won by Jem and The Holograms, the mansion officially became theirs. It served as a place for several meetings and parties over the course of the series, like those for the production of the Starbright film and Ba Nee's departure after her father was found, respectively.
MUX History
In 2016, Kimber and the Starlight Girls hid out in the mansion during Cobra's attack on LA.
Logs
2018
Trivia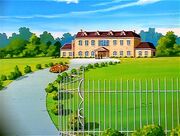 It was the second place used to serve as a home for the Starlight Girls.
Befitting its status as a mansion, it had many rooms for the Starlight Girls and The Holograms.
It also has a swimming pool.
Jerrica once used the mansion as collateral for Ba Nee's eye operation in the event that she was unable to pay for the surgery, which was $250,000.
Synergy is housed in a hidden room in the mansion.
Despite it being called Starlight Mansion, it is still, for some reason, called Starlight House by those that remember the original Starlight House.
Starlight Mansion has been damaged at least once, but repaired.
References