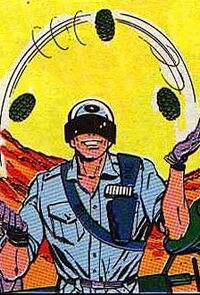 Name: Starduster
Faction: GI Joe
Species: Human
Function: Public Affairs/Jet Backpack Trooper
Division: US Army
Sub-Group: US Army Rangers
Type: FC
"That's the number one rule: keep the Act Interesting."
History
Canonical/Pre-MUX/Theme History:
Starduster first joined the team as a member of the Public Relations department. He filmed many commercials for G.I. Joe ACTION STARS CEREAL, a breakfast cereal aimed at kids, which, along with the Afterschool PSA's were designed to bring G.I. Joe into the lives of Children in a positive way.
He later transferred into the JUMP JET Program.
MUX History:
When the team was reinstated, Starduster was reactivated as a Reserve member of the team. He is currently assigned to Public Affairs in Washington, DC.
OOC Notes
Likes to juggle Grenades... Dummy Grenades
Personal information
File Name Edward J. Skylar
Birthplace Burlingame, California
Aliases Skyduster
Military information
Service branch US Army
Grade / Rank Staff Sergeant (E-6)

Specialties Jet pack pilot; Infantry; Air Reconnaissance; Helicopter assault; Public Affairs

Training Ranger School

Weapon / vehicle expertise J.U.M.P.
Logs
Players
Starduster is available for application.
Gallery
References
---
Community content is available under
CC-BY-SA
unless otherwise noted.