The Skystriker is a G.I. Joe vehicle.
Skystriker XP-14F
Machine information
Machine type

Jet fighter

Purpose

Aerial combat

Military information
Service branch

US Air Force

Designated pilot / driver(s)
Organizational information
Factions
The Skystriker XP-14F is a variable wing fighter aircraft that was first deployed in the 1983 by G.I. Joe. It is a heavily modified version of the Northrop Grumman F-14 Tomcat. This jet fighter is frequently piloted by the G.I. Joe member code named Ace.
Features
E-81 Aero Vulcan Gatling cannon
Nose-mounted pulse-Doppler radar
Portside E-41A1 Vulcan 50 MM cannon
360-degree visibility cockpit canopy
Variable sweep wings
High-strength titanium/boron epoxy composite skin
Site-5 Sidewinder missiles
Site-3 Sparrow missiles
Site-3Z Phoenix missiles
History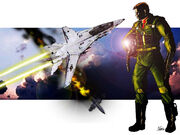 Comics continuity
The Skystriker XP-14F was first deployed in 1983, and was used in almost every dogfight G.I. Joe had with its enemies.
It was the central focus when Ace piloted a Skystriker in a dogfight against the Cobra pilot Wild Weasel. Neither pilot won.
It often appeared in relation to the USS Flagg, the Joe's aircraft carrier. For example, several Skystrikers are lost over the carrier's side during a tsunami.
Its use lessened after Ace traded it for the newer, more sophisticated Ghoststriker X-16, a craft based on F-16 Fighting Falcon.
It was eventually replaced by the Skystriker XP-21F.
Variations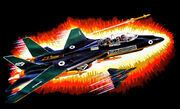 External links
Footnotes