This article is about the heroic Decepticon Terrorcon - for his evil counterpart, see Sinnertwin.
Sinnertwin is a heroic Decepticon Terrorcon from the "Shattered Glass" universe.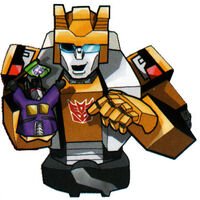 Before Optimus Prime started his war of conquest, Sinnertwin was Cybertron's most well-known and talented puppeteer. His puppet shows were popular with beings from planets all over the galaxy ranging from little protoforms all the way to royalty. He now fights as a part of Megatron's quest for peace, in the hopes that he and his puppets can someday entertain the masses once again.
Sinnertwin transforms into a Cybertronian orthrus. He carries a small pistol in robot mode and a Rocket Grenade-Launcher and Flame Cannon in beast mode. He combines with the other Terrorcons to form Abominus.
Notes
History
Canonical/Pre-MUX/Theme History:
Sinnertwin and the Terrorcons are among the ranks commanded by Cyclonus on Cybertron.
MUX History:
Sinnertwin and the Terrorcons continue to patrol Cybertron, protecting its civilians from Junkion assault.
OOC Notes
Logs
Players
Sinnertwin is available for temping in the Shattered Glass TP.
---
References