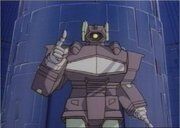 On Thu, Aug 29, 2013 at 11:56 PM, Shockwave wrote:
Having returned to Tarn after his meeting with Prowl, Shockwave walks up to the main viewing screen of the room that now houses the nearly complete Space Bridge, much like it had been before the fall of Polyhex. Though he is unsure of what sort of mood he'll catch Megatron in, it is only logical that he proceed with this inquiry.
After all, Prowl was right. Whether anyone wanted to admit to it or not.
"Shockwave calling Megatron. Acknowledge."
Megatron appears on the viewscreen, transmitting from his personal quarters. His body is in shadow, revealing only his silhouette and burning crimson optics. In his distinctive rasping voice, Megatron answers, "What is it, Shockwave?"

Whatever Megatron might have been doing before - reading War and Peace, sipping tea or playing Candy Crush Saga - he will be able to return to it shortly. For Shockwave being Shockwave, gets right to the point:
"The Space Bridge has been reconstructed in Tarn and will be functional by morning. I will notify our forces. I am also close to determining a way to penetrate the Quintesson forcefield defenses." A pause. "I was also contacted by the Autobots. Though he would not directly say so, the Autobot, Prowl, meeting with me face-to-face says something of their poor defense efforts against the Quintessons on Earth." His optic flashes, "They propose an alliance with us against the Quintessons, for fear they will overrun the Earth, transform it and then use it against Cybertron, conquering all of us. Though I care nothing for the glitches, Earth's resources are still vital to Cybertron. I have brought this proposal to you alone, Megatron. The Autobot was promised nothing."
Megatron leans back into the shadows a moment, considering Shockwave's proposal before answering. Finally he leans forward again, burning optics fixed into the camera. "We cannot let these alien interlopers have what is rightfully ours. If the Autobots wish to act as our cannon-fodder, so be it. Accept the alliance, and make sure it's the Autobots who are bravely in the front lines. We will crush these Quintessons, and once the Autobots have weakened themselves helping us, crush them as well for ultimate conquest. You were right to bring this to me, Shockwave - I trust you will bring us victory. Keep me apprised of your success." He ends the transmission.

When the transmission ends, Shockwave stares at the empty view screen. Then, like always, he turns and immediately gets back to work. He will transmit to Prowl later - Cybertron was still under attack, and he was not finished.