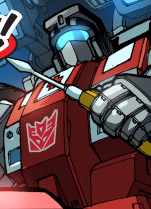 | | | |
| --- | --- | --- |
| " | My work is a monument to my allies and their efforts to preserve and protect Cybertron. | " |
SCRAPPER is the engineer of the Constructicons, and also fixes up Decepticons when they get hurt. While the other Constructicons put their masterpieces together, Scrapper is the one who designs everything for them. His designs are among the best in Transformer history, and Scrapper is a proud Decepticon who basks in the praise he receives. In that respect he is the polar-opposite of his frequent second-in-command, Hook, who is soft-spoken and modest.
Although prideful, Scrapper's fuel pump is in the right place. When not designing defenses or repairing his comrades he wanders Cybertron, collecting scrap to use as raw materials in one of his artistic creations. His kind and visionary nature is something Megatron finds admirable, and he considers Scrapper one of the most valuable of the Constructicons.
In vehicular mode, Scrapper's shovel can slice through 12-inch thick carbon-steel plate and lift up to 30 tons. By adding on his single-jet levitation wing he can fly at 60 mph for 250 miles. In robot mode he has immense strength and carries a laser pistol. When combined with his fellow Constructicons, he serves as the right leg module and part of the torso module in the giant robot known as Devastator.
While flying, Scrapper is a very vulnerable target due to his lack of speed and maneuverability. His shovel is prone to metal stress fractures if overused.
History
Canonical/Pre-MUX/Theme History:
MUX Origins
On Cybertron, Megatron recruited Scrapper to join his cause in stopping the maniacal Optimus Prime. Prime's destruction of Crystal City has only strengthened Scrapper's result to fight and defeat the Autobot monster.
In 2006, construction on Dinosaurer secretly began on Cybertron by the Constructicons with help from Octane and under the direction of Shockwave. Dinosaurer was an experiment granting sentience to wild creatures of Cybertron. Dinosaurer's gestalt-sized altmode was just an extravagance on Scrapper's part.
MUX History:
Scrapper was leader of the Constructicons, and was commander of the Decepticon Medtech division until it was taken over by Nemesis. In 2016 he embarked on an ill-fated trip to Earth, and was killed en route by the Autobots.
OOC Notes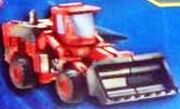 Logs
2016
Players
Trivia
Hook and Scrapper's coloring is probably based on the Protectobots.
---
References