Scalpel is just the cutest widdle Decepticon-allied Mini-Con!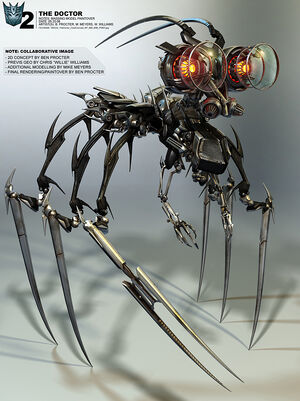 The tiny Scalpel, also known as "the Doctor", looks harmless enough with his big, inquisitive eyes. But beware—in the world of the Transformers, things are not what they seem! Scalpel has vast databases of anatomical and mechanical knowledge, being familiar with most species in the galaxy. He's extremely adept at getting to the root of a problem and can handily disassemble most technological devices... or life-forms. Unfortunately, when he goes to put them back together, he always has a few parts left over. This has left most of the Decepticons reluctant to come to him for care, in spite of his duties as their field medic.
Scalpel transforms from a dissecting microscope to a creepy, almost cute insectoid robot.
History
MUX History
In 2019, Megatron placed Scalpel in charge of Decepticon Medtech.
In 2020, however, Scalpel was demoted and Shockwave put in charge of Decepticon Medtech/Operations.
Logs/Posts
2020
References
Revenge of the Fallen
Notes
The combination of German accent, monocle-like eyes and murderous personality all give Scalpel the air of the stereotypical Nazi mad scientist.
In the movie itself and the novelization, he is simply called "the Doctor". He goes unnamed in the comic adaptation.
While his toy is grossly out of scale as a microscope usable by a human character, it's perfectly sized for Voyager and Leader class figures to use.
The only reason his toy has pop-off glasses is because Hisashi Yuki thinks it's funny.
In the second issue of the movie adaptation, Scalpel suddenly has a mouth, complete with teeth. And he looks really weird because of it.
His alternate mode in the movie is different from his toy's. While the toy turns into a dissecting microscope, the alternate mode in the film is actually a lensmeter, a device used by optometrists to check the various aspects of a prescription lens for eyeglasses. It appears to be an American Optical Lensometer Junior Model 603 from 1938.
In Dark of the Moon a bunch of Lensmeter Decepticons appear. It is unknown if Scalpel was among them.
Foreign names
Japanese: The Doctor (ザ・ドクター Za Dokutā), Scalpel (スカルペル Sukaruperu)