Quintessons are mysterious alien race, with ties to the origins of the Transformers.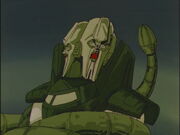 "What we cannot control, we will destroy."
The Quintesson SCIRE is an example of a rare three-faced Quintesson – although one of his faces is badly scarred, and covered with a mask. A biomechanical genius, he is the creator of many of the modern Transorganics, and may have something to do with the more ancient monsters dwelling beneath Cybertron's surface. Past failures have made him trepidatious to say the least, but his natural curiosity drives him to further experimentation and perversion of nature and technology.
With the destruction of their homeworld of Quintessa, the Quintessons are forced to colonize much less grandiose planets such as Earth. Twisted by exile and betrayal, they are now forced to entertain themselves with mock trails, petty cruelties, bizarre experimentations and attempted subterfuges.
History
Pre-MUX History

In ages long past, a cold and emotionless race of aliens called the Quintessons created two lines of sentient robots on a planet-sized factory known as Cybertron. One was a line of robots designed for domestic duties and labor (known as Autobots), and the other was a line designed for military use (known as Decepticons). The Quintessons were exceptionally cruel to their creations, eventually leading to wide-spread rebellion, a rebellion started by the Autobot A3. Forced to flee the planet, the Quintessons eventually returned to their small, twisted planet of Quintessa, but fostered an undying hatred of all Transformers for millions of years.
The Judges are not the only Quintessons to have multiple faces, though the only known exception is Scīre the three-faced scientist who was the primary creator of the Trans-Organics. One of his faces was grievously damaged, a scar left by the Dweller, which he covered with a mask.
MUX History
On the MUX, Quintessons have been studying humans and Transformers on Earth for some time, preparing for a lightning-strike invasion. In 2013, they began their attack on Earth, bombing and occupying Los Angeles while taking human subjects for study.
Scīre instigated a plan to get the trans-organics from their prisons deep within Cybertron to wipe out all Transformer life. Arriving on Cybertron in Vashik's Spire, Scire planned to use his Warship <Dēstruere> to lure the Dweller into destroying all population centers on Cybertron, starting with Iacon. However, Scīre's shuttle was shot down, and Scīre himself was killed while being attacked by Windshear, who absorbed many of his memories as well as his ancient, tainted energon.
Notes
Scīre commandeered the Quintesson Warship <Dēstruere> for his dark purposes on Cybertron. It has since been shot down and is now in the possession of the Decepticons.
Community content is available under
CC-BY-SA
unless otherwise noted.