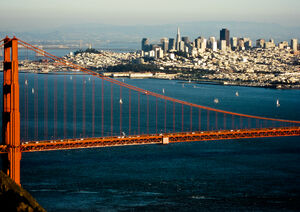 San Francisco, California, has been a sufferer of Transformers-related abuse.
And yet the rent is so high. We don't understand. Makes you long for the days when it was only being savaged by weird robot bird-dragons that hatched out of asteroids.
History
G.I. Joe History
1950
Thomas "Storm Shadow" Arashikage is born in St. Louis, Missouri. His family would later move to San Francisco.
Transformer History
The Transformers canon
The Secret of Omega Supreme
When an asteroid bird alien was accidentally hatched in a battle between the Constructicons and Omega Supreme, it got hungry and flew down to San Francisco to feed. It gnawed on the tip of the Transamerica Pyramid and caused general mayhem in the city before it was lured back into space by Omega Supreme.
MUX History
Members of G.I. Joe Ninja Force have re-opened the dojo in San Francisco, and offer low-cost martial arts training to the community. In 2016, the city was ravaged by motorcycle gangs and then taken over by Cobra.
In 2019, the city was freed from Cobra control by G.I. Joe.
Shattered Glass
On September 21, 1986, a monstrous creature encased in an amber monolith was found buried in Big Sur national park. It was recovered by the government-funded Earth Corps, a geological sciences research team. The finding spurred honest industrialist Blackthorne Shore to clandestinely uncover a second monster buried elsewhere — a giant vine-like creature called Tendril, who attacked the amber block's public unveiling in San Francisco to release the macabre colossus trapped within, D'Compose. They rampaged through city streets before fleeing into the watery darkness of the bay.
The US government called it an "unwarranted attack by underground monsters" and promised the public it would never happen again.
Places of Interest
References
Community content is available under
CC-BY-SA
unless otherwise noted.