The name or term Salvo refers to more than one character or idea. For a list of other meanings, see Salvo (disambiguation).
Personal information
Real Name

Talalelei Ala'ilima

Birthplace

Lalovaea, Samoa

Alias(s)

Specialist Salvo

Military information
Service branch
Primary MOS

Man-portable anti-tank systems

Secondary MOS

Infantry

Rank

E-4/Specialist

Weapon(s)

Shoulder-launched anti-tank rockets

Organizational information
Factions
Hailing from the island nation of Samoa, Talalelei Ala'ilima, codename Specialist Salvo, is one of G.I. Joe's new international recruits. Wearing a rocking shirt and wielding an "insane" amount of heavy firepower, Salvo's dry sense of humor and love for wielding the big guns mean she isn't afraid to share her outside perspective on G.I. Joe's mission with her allies and superiors.
History
Canonical/Pre-MUX/Theme History: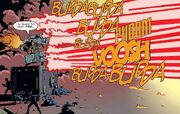 Salvo joined G.I. Joe circa 2017.
MUX History: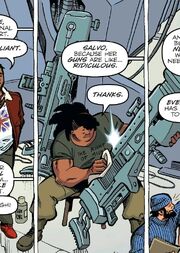 During one of Salvo's first field missions as a Joe, she faced incredible unknown horrors in Canada.
OOC Notes
The original Salvo is David K. Hasle, a bald white guy from Arlington, Virginia. Ala'ilima uses the Codename Salvo when she's not on the same mission as Hasle.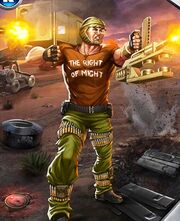 Logs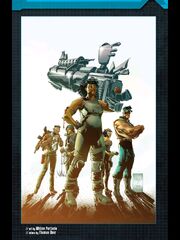 2019
February 20 - "Happy Fun Zone" - MI-5 calls in the Joes to retrieve a package from an eldritch land of smiley faces.
Players
Finally the Players section is a chance to link your user page to this one, so people can find out the real person behind the character! For FCs, put the time you played the character to and from, and for OCs you can list the creation date forwards.
References
Community content is available under
CC-BY-SA
unless otherwise noted.