This article is about the heroic Decepticon Terrorcon - for his evil counterpart, see Rippersnapper.
Rippersnapper is a heroic Decepticon Terrorcon from the "Shattered Glass" universe.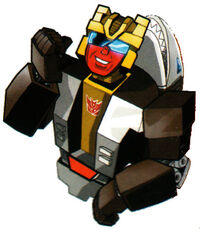 The fact that the war has pushed the movies Rippersnapper starred in out of public consciousness bothers the former actor not one bit, as the fact that he still remembers them is all that matters. He joined up with the Decepticons' Operation: Combination project because he thought it would be an awesome experience. As a result, when they can pull him away from staring at himself in the mirror, he combines with the other Terrorcons to form Abominus, which is almost big enough to fit his ego.
History
Canonical/Pre-MUX/Theme History:
Rippersnapper and the Terrorcons were among the ranks commanded by Shockwave on Cybertron.
MUX History:
Rippersnapper and the Terrorcons continue to patrol Cybertron unless specifically called to Earth.
OOC Notes
Logs
Players
Rippersnapper is available for temping in the Shattered Glass TP.
References