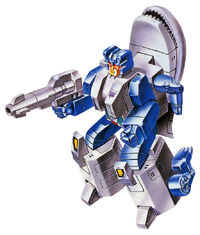 | | | |
| --- | --- | --- |
| " | Autobots are an error I intend to correct. | " |
Any organic creature whose status on the evolutionary scale ranks higher than a slime mold, particularly Autobots, sends Rippersnapper into a ferocoius frenzy. He absolutely hates even the smell of carbon-based life-forms. In land shark creature mode, his claws and teeth can slice through almost any substance. He also has twin ground-to-air, voice-guided missile launchers. In robot mode he has cyclone gun. He combines with fellow Terrorcons to form Abominus.
History
Pre-MUX/Theme History:
The Terrorcons were among the many Decepticons under the command of Shockwave on Cybertron.
MUX History:
Rippersnapper and the Terrorcons continue to patrol Cybertron unless specifically called to Earth. During the Dweller seige of Polyhex, Rippersnapper was made into an energy vampire by the Trans-Organics. Re-Captured by Cyclonus in 2013, he was eventually cured by Starscream.
OOC Notes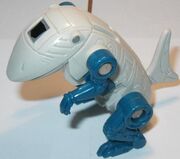 Logs
Players
Rippersnapper is available for application.
---
References
Is this all there is?!!
---
This character article is a stub and is missing information. You can help Transformers Universe MUX by expanding it.