Pointblank was an Autobot TP-only character.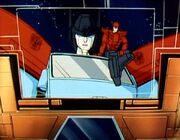 Pointblank would say that war is hell, if he wasn't a bot of very few words. Words make arguments, and arguments make wars, and he wanted no more of those. That isn't to say he was a poor fighter. He just wanted a quiet place to sit down with a good datatrack and a glass of frosty energon, without a Decepticon missile spoiling everything. If he should find himself pounding the ever-loving lock-washers out of the shooter of that missile, it wasn't because he bears grudges or even out of regret for the waste of a good drink. No, it's just on general principle. Every battle won brought him closer to retirement, which of course was never going to happen in a million years, especially since he was killed in a Decepticon attack. No hard feelings, though.
History
Pointblank was head of security on the Kimia Facility until it was destroyed in 2015. He was later reassigned there when it was rebuilt as a ground-based research base, but was killed when that, too, was destroyed in 2017.
OOC Notes
Pointblank is a TP-only character. And dead. As such, he cannot be apped for.
Is this all there is?!!
---
This character article is a stub and is missing information. You can help Transformers Universe MUX by expanding it.
References
Community content is available under
CC-BY-SA
unless otherwise noted.