This article is about the raven - for the Decepticon subversive agent, see Ghost.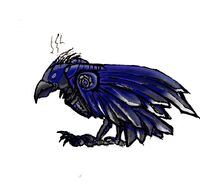 | | | |
| --- | --- | --- |
| " | Secrets are weapons to be used exactingly. | " |
OMEN is a next-generation Decepticon Mini-Cassette, although she would prefer the term recordicon were she asked. Created in the earth year 2020 inadvertently, the intricately designed cyber-raven is a bladed, sardonic creature designed for intelligence collection and espionage that delights in digging out the tiniest secret. With a vast range of sensory and data-collection systems woven throughout her small frame, there isn't much that is missed either immediately or when she reviews recordings of her activities to report back to her carrier-host, Ghost. Armed with bladed wings and a near monomolecular edged beak, getting up close and personal is her preferred means of physical communication. For moments requiring a touch from afar, an array of plasmic field generators are dispersed through her frame, enabling her to deliver stings from afar. The raven has a tight bond with her carrier and more often than not acts as a auxiliary for sensory and data collection and processing. She displays a territorial possessiveness over HER carrier and a general unwillingness to share. Preferring to communicate in Ancient Cybertronian (Primal Vernacular) and using as few words as possible, she harbors a particular delight in delivering commentary with an acerbic wit to see who is riled with her deliberate word choices.
Desc
This cybertronian 'raven' is a small, wing-bladed menace of a creature tricked out in dark blues and off-white. The standard size for a cassetticon, there are elements present indicating that it is one: The locking irises on the primary wing joints are a throw back to the 'tape' mode.
A prominent beak in coal black leads into a dark blue rounded head where large violet optics ringed with gold shine with curiosity and mischievousness. The intricate, interlocking armor plating lends an illusion of feathers shading from blue to dark charcoal grey along its neck that shift and flex as it moves. That feathering continues to its compact, deep-chested body, into the wings, and end with a fanned spread of tail 'feathers'.
Whereas many of the avian tapes have flight members that are limited to a pair of pinion points, this raven sports multi-faceted wings with blades making up the flight members coming off of the main joint. The wing 'feathers' are lined at the edges and tip with an off-white metallic hue.
There is a flight-harness rounding across its chest and over its back, additional space for internal equipment and showing small lines here and there, perhaps general storage. Legs end with long 'toes' tipped with curved back talons. No insignia or emblems mar this avians frame nor obvious weapons-hardpoints.
History
Canonical/Pre-MUX/Theme History:
MUX History:
Omen was the first planned symbiote for Ghost as a means to aid in processing sensory and data information. Her creation time was unexpected, having come to 'life' as her carrier-host was being transferred out of the Cyber-Raven frame into her new redesign. She is a 'split-spark' style newbuild and while 'new', memory files left in the Cyber-Raven frame were incorporated into her spark, giving her additional background information and understanding that many new sparks would not have.
In 2021, Blaster, Signal Flare, and Starlock witnessed Omen emerging from Ghost's frame, confirming Ghost's capacity as a host and Omen's existance as a symbiote.
OOC NOTES
Omen likes 'Ne'tra Gal': Toraxxian Black Ale is a particular favorite. She got this from her carrier-host but refuses to admit they share the same tastes.
Omen finds perverse enjoyment over being confused for her carrier-host, who had been housed previously in the raven frame before Omen came online and will play along if the situation arises.
Omen does NOT like to share her carrier-host with anyone or anything. She also gets perverse enjoyment over biting Ghost at random.
Omen is pretty; very, very pretty and knows it.
Logs
2020
While Ghost was inhabiting the Raven-frame:
A random assortment of helpers arrive.
---
2021
2022
May 23 - Report In
Omen's glowering, beaked visage pops up on the monitor. And with a grumbling, rasping, angry-bird hiss, she makes a short report: 

"All cadre, report in. Ringtone, Vizier, Rock Out. To me or to Soundwave." 

The angry raven disappears.

Players
Omen is played/emitted by Scaythe, a member of JudgeStaff.