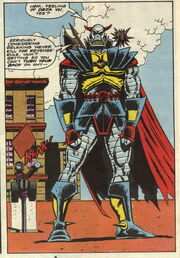 Neutrals are Transformers who have renounced the idea of factions or refused to take part in the Civil War.
While some Neutrals resist joining a faction by choice, some defining themselves not by faction but by world, as the war drags on, the majority are those who are unsuited to combat, such as the Empties.
While "Neutral" is the Autobots' term for them, the Decepticons prefer to call them "target practice".
Generation 1
In all likelihood, Mirage's high-priced, turbofox-hunting friends are neutral.[1]
References
↑ Mirage's bio and Universe profile.