Nebulans (or Nebulons) are the inhabitants of the planet Nebulos. They have two hearts.
Their language is Nebulanese.
Note: The description of Nebulans themselves varies from continuity to continuity.
History
Decepticon World continuity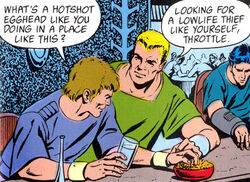 The Nebulans are a race of humans that had lived without war for thousands of years on their home planet of Nebulos. That peace was disrupted when a group of Autobots arrived seeking to relocate from their own war-torn world of Cybertron. This caused divisions amongst the Nebulans based on whether or not to trust the newcomers. Ring of Hate!
Generation 1 cartoon continuity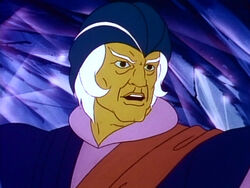 Nebulons are extremely human-like aliens who possess green skin and dark green or white hair. Their facial features tend towards a rather Native American cast. Some of the oldest of their ruling class, the Hive, appear to have had cyborg alterations or even taken on fully robotic bodies.
Nebulos is a world whose inhabitants were enslaved by the Hive, a group of eleven Nebulan telekinetics led by Lord Zarak. The populace is mainly forced to do routine farm work, watched over by the machines which the Hive controlled telepathically.
Community content is available under
CC-BY-SA
unless otherwise noted.