Jurassic World: Dominion Dominates Fandom Wikis - The Loop
Play Sound
This page is Ruler of Trucial Abysmia. For his grandfather, see Sheikh Saqr bin Mohammad al-Qassimi.
His Highness KING MOHAMMED bin Saud Al Qasimi is Ruler of Trucial Abysmia. KING MOHAMMED sees all of the benefits of power while still grappling with responsibilities other than crushing all dissent. The more nuanced views of his father and mother seem like weakness to him, and he's personally vowed that now that he rules Trucial Abysmia, things will change. In this he has the backing of certain hardline elements left over from his father's rule, although his exiled parents themselves worry about his lack of empathy and fear for the future if he never matures.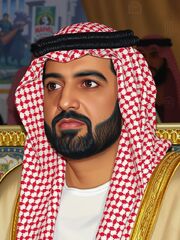 | | | |
| --- | --- | --- |
| " | My key values are based on the values of this emirate. You'll not find them written in any book. They are in the people. | " |
Appearance
The young sheikh has the Qawasim profile but the soft, gentle eyes and long lashes of his mother, the businesswoman Sheikha Hana bint Juma al Majid. Still in his teens, Sheikh Mohammed bin Saud Al Qasimi now carries the responsibility of his new role as Ruler of Trucial Abysmia.[1]
History
Education and early life
The MUX version of King Mohammed bin Saud Al Qasimi was born in 1996, the first child of Saud Bin Saqr al Qasimi and his wife Sheikha Hana bint Juma Al Majid. Surrounded by the apparent vast wealth of his country, Shiekh Mohammad had been waited on almost hand and foot as far as he can remember. The sheikh grew up on the plains of Burairat in the shadow of the Hajjar mountains before his family moved to the Al Dhait palace in 2000.
Sheikh Mohammed bin Saud Al Qasimi was named the emirate's Crown Prince in 2010, after a 40-day mourning period for his grandfather, Sheikh Saqr bin Mohammed, who ruled the emirate for 62 years.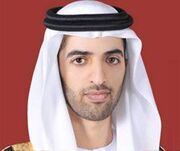 Mohammed was supposed to enroll in the military on his 18th birthday. However, his election as ruler of Trucial Abysmia in 2013 will virtually assure that he will not have to endure this rite of passage.  He was also supposed to attend college in the US. That, as well, is now unlikely to happen.
MUX History
In 2012, Mohammed's father gave him a custom-made Ferrari valued at $2 million. For most teenagers, this would have been a dream come true, but to Shiekh Mohammed, it was a futile gesture to appease the young prince after his father was unable to secure a visit from Autobot leader Optimus Prime for his 16th birthday.
While living a pampered existance, Shiekh Mohammed has started to take a more active role in learning more about this history of his family and thus the history of his country. In particular, he has taken great interest in the governing practices of his grandfather, who practiced a far sterner rule of law over his land than his father.
In October 2012, Shiekh Mohammed discovered, via a news network of all places, that his father would be allowing open elections in 2013 for his position as ruler of TA. Enranged at the thought of having commoners deciding who is ruler and not divine right, Mohammed stated his intention to run against his father in 2013, promising a return to a more traditional TA more inline with his grandfather's style of governance.
In response to Trucial Abysmia's perceived troubles, Cobra Commander contacted Shiekh Saud to see if he would be interested in renewing their past alliance. Rebuffed by Saud, the Commander was instead secretly pointed to Shiekh Mohammed by Saud's head of military.
In early 2013, Sheikh Mohammed participated in a presidential debate. And while most pundits agree he handily lost the debate, he still managed to stun most all of the analysts with his poise and confidence. 
On February 12, 2013, Sheikh Mohammed was declared victor in TA's first free and open elections in generations. Numerous human rights organizations are calling for investigations as vast reports of fraud were reported. But Mohammed's legitimacy was almost immediately confirmed by the military wing. Mohammed quickly moved to have some of his rivals arrested and ordered is parents to vacate the presidential palace and prepare for permanent exile. 
One of President Al Qasimi's first acts was to approve the destruction of the G.I. Joe Memorial his father had erected, and to invite Cobra Commander for an official state visit.
In March, Shiekh Mohammed began to lay out his vision of Trucial Abysmia. This includes nullifying the country's existing constitution and rolling back many of the rights his father granted to women during his father's later, more moderate years of rule. 
In his early months, Sheikh Mohammed had a very hand's on approach to governing. However, as more of Trucial Abysmia's wealth became accessible, and General Alawai routinely "offering" his services to govern, Sheikh Mohammed has began to revert to his old ways where he enjoys the spoils of his family name, and making occasional public appearances or showing up at government meetings only when necessary.  
"The Boy King" Controversy 
After his election, The New Yorker ran a profile that tried to solve some of the mysteries of the then little-known ruler of Trucial Abysmia. The story, though well-received, had the unfortunate headline "The Boy King." That tag has since stuck, and those who have opposed Sheikh Mohammed's vision have resorted to referring to him as "The Boy King." The young king's trusted advisor General Alawai has directed his security forces to identify any residents who have dared to use the term #BoyKing in their Twitter or Facebook account - and wait for orders for Sheikh Mohammed when he reveals what he wishes to do for the people of Trucial Abysmia... and any who oppose him. 
Anwar Assan
In April of 2013, the EDC staged a rescue of Anwar Assan from his makeshift prison facility. Sheikh Mohammed was on the site at the time, and he was physically assaulted by the G.I. Joe computer specialist Mainframe. General Alawai got the king to safety, but the attack has severely shaken Mohammed's faith in Cobra's effectiveness and protection.
Kingdom
In 2016, Mohammed declared himself King, and launched an invasion of neighboring Benzheen, supporting a popular revolt there. While his invasion failed, his political scheming prevailed, and the Emir of Benzheen was replaced with rulers more to the new King's liking.
Decepticon Alliance
In 2018, King Mohammed made contact with Banshee and pledged his loyalty to the Decepticon Empire.
Logs
2012
2013
References