The Minibots are a subgroup of Transformers. Although many Transformers are "Minibot"-sized, usually only Autobot minibots are identified as such.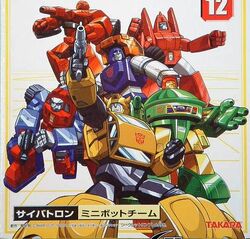 The Mini Vehicles (also known as Minibots[1], Mini-Autobots, or Minicars) are Transformers of small stature. Size notwithstanding, many had considerable abilities or armaments, the latter usually built-in, as they usually did not carry guns or fit external launchers.
Official Minibots
1984
1985
1986
Expanded Universe
Universe
Other
History
Canon History
Notes
On the MUX, Minibots have smaller robot modes to conserve energy, but full-sized altmodes. This is accomplished through fixed mass-shifting.
References