The Minibots are a subgroup of Transformers. Although many Transformers are "Minibot"-sized, usually only Autobot minibots are identified as such.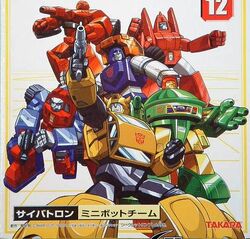 The Mini Vehicles (also known as Minibots[1], Mini-Autobots, or Minicars) are Transformers of small stature. Size notwithstanding, many had considerable abilities or armaments, the latter usually built-in, as they usually did not carry guns or fit external launchers. Some of them are incredibly strong for their size. They have smaller-than-average robot modes (although not as small as Micromasters), but normal-sized altmodes.
Official Minibots
1984
1985
1986
Expanded Universe
Universe
Other
History
Canon History
Notes
On the MUX, Minibots have smaller robot modes to conserve energy, but full-sized altmodes. This is accomplished through fixed mass-shifting.
References