Jurassic World: Dominion Dominates Fandom Wikis - The Loop
Play Sound
The Middle East is a region that encompasses Western Asia and North Africa. It is often used as a synonym for Near East, in opposition to Far East. The corresponding adjective is Middle-Eastern and the derived noun is Middle-Easterner.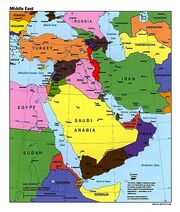 The history of the Middle East dates back to ancient times, and throughout its history, the Middle East has been a major centre of world affairs. When discussing ancient history, however, the term Near East is more commonly used. The Middle East is also the historical origin of major religions such as Judaism, Christianity, and Islam. The Middle East generally has an arid and hot climate, with several major rivers providing for irrigation to support agriculture in limited areas. Many countries located around the Persian Gulf have large quantities of crude oil. In modern times the Middle East remains a strategically, economically, politically, culturally and religiously sensitive region.[clarification needed] The Middle East expected economic growth rate is at about 4.1% for 2010 and 5.1% in 2011.
History
MUX History
In 2004, the Combaticons were reported to be working out of the Middle East.
Territories and regions
Traditional definition of the Middle East
Source:
Notes:
1 The figures for Turkey includes Eastern Thrace, which is not a part of Anatolia.
2 Under Israeli law. The UN doesn't recognize Jerusalem as Israel's capital.
3 Includes the whole of the West Bank, according to the pre-1967 boundaries.
4 In addition, there are around 400,000 Israeli settlers in the West Bank, of which half are in East-Jerusalem.
Greater Middle East
Source:
Notes: 1 Afghanistan is often considered Central Asian[1][2]
References