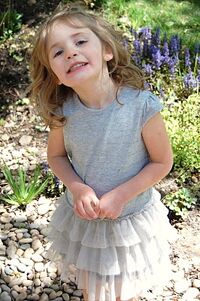 Megan Witwicky is the second child of Carly and Spike Witwicky. She is very intelligent and inquisitive, and has a real ear for music.
History
MUX History:
On May 2, 2011, Megan Susan was born to Carly and Spike Witwicky.
On May 26, 2013, Megan was rummaging between couch cushions when she located a slimy, moldy, roach-infested pizza slice and promptly stuck it in her mouth. When Spike and Carly investigated further, they located an entire pizza that Buster had forgotten about, still in the takeout box, with a large colony of roaches settled on top of it. Carly is absolutely livid at the discovery, and wants to confront Buster directly. After a heated discussion with Spike, Carly then realizes that her husband is trying hard to preserve the fragile relationship between the brothers, and it probably wouldn't do much good to scream at Buster, anyhow. Even so, the entire event has soured Carly's already low opinion of Buster.

On April 7, 2014, Megan attended the handfasting of Buster Witwicky to Jesse Macchio.
Since the bombing of Autobot City in 2015 that left several Autobot leaders badly injured, DJ Faireborn has been helping babysit Megan.
OOC Notes
Logs
2013
2015
Edwin decides to stop by the Witwicky home to catch up with Spike & family.
2016
March 25 - "Ron and Judy" - Concerned about Sparkplug's health, Judy and Ron Witwicky travel to Autobot City to visit Ron's brother, possibly for the last time.
2017
May 01 - "A Good Kid" - DJ Faireborn and Spike Witwicky talk in Autobot City about DJ's prospects for summer employment.
2020
February 11 - "Dust Devil Hurts Himself" - Dust Devil hurts himself while messing around. Scales and Spike patch him up.
Players
Megan Witwicky is usually @emitted by SpikeWitwicky and Doomflower as necessary.
References
---
Is this all there is?!!
---
This character article is a stub and is missing information. You can help Transformers Universe MUX by expanding it.