This article is about the name of the piloted combat suits - for the James Bond-esque terrorist organization, see MECH.
A mech is a piece of human (or alien) technology.
Over the years both G.I. Joe and Cobra have developed many types of mech armor, to do battle both with each other, and the Transformers. The Autobots and Decepticons have resisted giving humans access to their technology, so most mech armor is developed by humans alone.
Types of mech armor on the MUX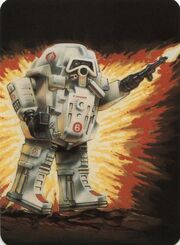 OOC