The name or term Faireborn refers to more than one character or idea. For a list of other meanings, see Faireborn (disambiguation).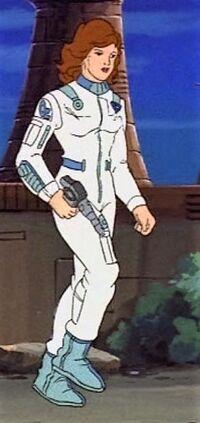 | | | |
| --- | --- | --- |
| " | There is no such thing as impossible. | " |

MARISSA FAIREBORN is the bold, confident leader of Earth Defense Command. Born of a military family, she exemplifies the qualities sought after in the United States armed forces, even as she's turned her attention to global security. Faireborn is both intelligent and quick. Incredibly brave, she has no problems confronting Decepticons several times her size. She drives a motorcycle on the ground and an Autobot shuttle in the air. For really pesky problems, she carries a null ray pistol designed for her by Brainstorm.
Description
Marissa Faireborn is the tough, no-nonsense leader of the Earth Defense Command. A tall woman in her mid-thirties, her hair is long and brown, usually worn down unless in combat or zero-G. She's currently wearing a white IVA space suit with a blue collar and a prominent EDC logo on both upper arms. Even though the EDC is associated with the Autobots, she wears no Autobot symbol, preferring to operate as independently as possible from her alien parent organization. A holstered null-ray pistol is always carried against her thigh.
History
Canonical/Pre-MUX/Theme History:
Marissa Alison Faireborn is the daughter of Flint and Lady Jaye. She was born on February 19th, 1986 in Albuquerque, New Mexico.[1]
MUX History:
As a student, Marissa roomed with Melinda Lossman at Hugon Academy. Aged during the Timewarp TP, Marissa went to college to forge her own path, independent of her parents.
| | | |
| --- | --- | --- |
| " | If you're going to panic, panic productively. | " |
In 2008, Marissa applied for and was accepted at the United States Naval Academy.
In 2012, Ensign Faireborn graduated from with a degree in Information Technology. Soon after, Crosscut pulled some strings and had her assigned to Autobot/G.I. Joe relations. Since then she has worked closely with Blaster, Dial-Tone, and Spike Witwicky to improve Autobot/G.I. Joe communications and relations, and at the end of October she moved into Autobot City to work more closely with Spike.
With the election of Sheikh Mohammed bin Saud Al Qasimi as the new ruler of Trucial Abysmia, Marissa has been forced to take a more active role in Autobot/TA relations.
Shortly after Sheikh Mohammed's election as ruler of Trucial Abysmia in 2013, the king ordered the arrest of human rights activist (and presidential candidate) Anwar Assan. For months, Assan was beaten and tortured at the hands of his capture. It was decided that securing Assan's freedom justified involvement from GI Joe and in April, a plan was quickly formed to free Assan with the help of the Joes and the Autobots, in essence, the first "official" covert EDC mission. Marissa was named acting commander of the operation.
On April 22, Marissa led the Autobots and GI Joe into Trucial Abysmia where EDC was able to free Assan from his captors. She personally saw to the rescue of Anwar Assan's wife Hanna, with the assistance of the Autobot Throttle. In spite of her military training, this was her first combat, and the first time she'd fired a weapon with the intention of hurting or killing someone else. During the raid, Marissa was wounded when she successfully rescued Assan's wife from house arrest. She took time to recover from her injuries, first aboard Broadside, and then back at Autobot City, where she met Shattered Glass Ravage and Sephie Beller before their return home.
When Windshear brought a rescued Johnny Depp and Marilyn Manson to Autobot City for safekeeping, Marissa selflessly did what she could to make sure Depp was well-cared for.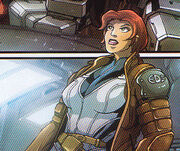 In 2014, Marissa was promoted to Lieutenant (junior grade) in the US Navy, and transferred to the Autobots full-time as her command assignment. In October of 2014, Marissa helped lead a small team of Autobots and G.I. Joes who infiltrated Decepticon City to capture Dr. Arkeville and rescue Typhoon.
In 2017, Marissa was promoted to Lieutenant (LT).
In 2018, the EDC was reorganized as a division of the Autobots, and Marissa was promoted to Lieutenant Commander (LCDR)/field commander.
In 2019, Marissa took a leave of absence from EDC leadership after becoming pregnant following an encounter with Dirk Manus.
Susan Alison "Susie" Faireborn was born on January 6, 2020 in Portsmouth, VA, after which Marissa returned to active duty.
In 2021, Marissa was promoted to O-5/Commander (CDR).
In 2022, Marissa was nearly shot out of space by an unknown invader. Her life was saved by Dust Devil.
OOC Notes
Since the post-movie Transformers cartoons aren't themely, the EDC isn't its own organization - it's merely a join Autobot-G.I. Joe task force.
Due to the Timewarp TP, Marissa's biological age does not quite match her chronological age. However, as she gets older this becomes much less apparent.
Logs/Posts
2012
2013
2015
2016
2019
2021
2022
Players
Marissa had a dedicated player until September of 2004. She is now temped by BZero, but still available for application.
Gallery
Preferred Vehicles
References
In the Shattered Glass universe, Marissa is a teen assassin with a thirst for vengeance. She believes Scarlett of the TFUniverse killed her father, and she is hell-bent on revenge!
Is this all there is?!!
---
This character article is a stub and is missing information. You can help Transformers Universe MUX by expanding it.