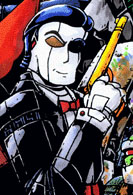 Ar-Gent Silverfinger of Evil, Inc. is digging up information on Dr. Casey Arkeville, who'd been buried deep where nobody can find him. Why?
Logs / Posts
2018
2019
January 1 - "Happy New Year" - Cookie's cooking a special dinner for New Year's. A guest stops to eat before heading home.
January 2 - "Bad News, Worse News" - The Pit has an infiltration problem.
January 4 - "The Drop Off" - Inferno has the information Ar-Gent wanted, and the two plot to make use of it.
Community content is available under
CC-BY-SA
unless otherwise noted.