Iowa is a U.S. state located in the Midwestern United States, an area often referred to as the "American Heartland". Iowa was a part of the French colony of New France. After the Louisiana Purchase, settlers laid the foundation for an agriculture-based economy in the heart of the Corn Belt.
In the latter half of the 20th century, Iowa's agricultural economy made the transition to a diversified economy of advanced manufacturing, processing, financial services, Information Technology, biotechnology, and green energy production. Iowa is the 26th most extensive in land area and the 30th most populous of the 50 United States. Its capital and largest city is Des Moines. Iowa has been listed as one of the safest states in which to live.
History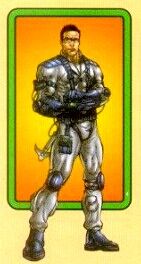 Several members of the Joe Team were born in Iowa. Sgt. Hacker comes from the small town of Emmetsburg (3,759) (And the Mux Admin Code-BLDR, or Kadjem was born there), on the Des Moines River about 25 miles south of the border with Minnesota. Hit & Run hails from Sioux City (83,876), on the Missouri River where the tail of South Dakota ends between Iowa and Nebraska. From there it's 50 miles east to Ida Grove (2,259), home of Maverick. Crazylegs' home of Fort Dodge (25,917) is about 65 miles farther east, on the Des Moines River. Finally, Windchill's Cedar Rapids (122,542) is on the Cedar River in east central Iowa.
MUX History
In 2006, Shockwave attacked a large corn farm in Iowa. He was eventually driven off by Ironhide, but not before stealing enough corn to use in his research into alternative energy sources.