The name or term Ion Storm refers to more than one character or idea. For a list of other meanings, see Ion Storm (disambiguation).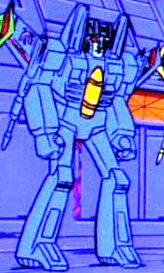 Ion Storm is known as an individual only to his teammates and a very few others. He is reasonably intelligent, eager, and dedicated utterly to the Decepticon cause. However, he prefers to remain anonymous, as part of his team. His hyperion-3 blasters can seed natural clouds with a highly destructive form of acid rain. Ion Storm is an electrokinetic, able to personally generate EMPs.
History
MUX History:
Ion Storm remains on Cybertron in service to Cyclonus.
OOC Notes
Logs
Players
Ion Storm is available for application or temping as a Disposable Character.
References
Is this all there is?!!
---
This character article is a stub and is missing information. You can help Transformers Universe MUX by expanding it.