The Intelligence and Information Institute is a human organization.
The name or term III refers to more than one character or idea. For a list of other meanings, see III (disambiguation).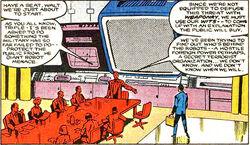 The Intelligence and Information Institute, often called Triple-I, is a top-secret branch of United States Government, charged with dealing with the threat posed by the Transformers on Earth.
Triple-I's headquarters is stationed in the Oregon foothills of the Cascade Mountains. Its director is Forrest Forsythe.
History
Marvel The Transformers comics

In the wake of escalating Transformer activity in the Oregon region, Triple-I's director, Forrest Forsythe, put pressure on one of his top intelligence agents, Walter Barnett, to find a way to stop the rising panic coming from frightened citizens. Rock and Roll-Out!
MUX Continuity
When John MacLeod was voted into office, the funding for the Intelligence and Information Institute was more than doubled, and Peter Anthony Morris and Phillip Grady were brought in to build the perfect war machine to defeat the Transformers and drive them from Earth.