As of 09/20/2021 (User:Bzero), Ibex is
under Autobot control.
Autobots within the territory are in command, Decepticons within the territory are seen as hostiles, and Unaffiliated Inhabitants are protected.
How do I change this?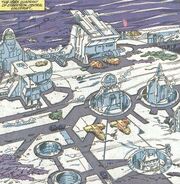 Ibex is a ruined quadrant of Cybertron. The Autobot-controlled Central Spaceport is located there, as is the neutral city of Harmonex.
History
Pre-MUX History
Beachcomber hails from Ibex, along the coast of the Mithril Sea. In the early days of the Decepticon uprising, Hoist commuted regularly from Kalis to Ibex on a passenger shuttle.
MUX History
As of 2021, Autobots control Ibex, as a protectorate of Iacon.
Logs
2020
Places of Note

That doesn't seem quite right...
---
This article on a location associated with Transformers Universe is a stub and is missing information. You can help Transformers Universe MUX by expanding it.