The name or term Hot Spot refers to more than one character or idea. For a list of other meanings, see Hot Spot (disambiguation).
Hot spots are a phenomenon, normally on Cybertron.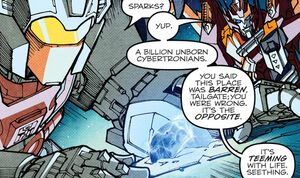 A hot spot, or calidum macula, is a location in which sparks are naturally known to ignite. Known hot spots have been recorded on Cybertron and its moons, though the vast majority have gone dormant over time.
History
MUX continuity
Hot spots were ignited by pulses from Vector Sigma. A race to find the new hot spot often occurred after each pulse. Prime Nova was worried that the pulses would stop eventually as they were getting less and less frequent by his time. The Divided Self A hot spot would usually be consecrated before any sparks were harvested from it. The Fecund Moon
At least thirteen of the Titans carried hot spots, which they engaged upon finding a suitable world to colonize. A 'Bot and Her City
In 2022, hot spots seemed to start reigniting on Cybertron.
Suspected Active / Activating Hotspots 2022
Cybertron Locations:
Colonies:
Notes