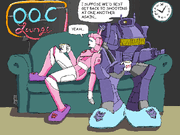 Out of Character (OOC) relates to the the player, as opposed to In Character (IC), which regards the character. So, if the Director is hungry IRL, that's OOC. If *Typhoon* needs fuel, that's IC.
Transformers Universe -:- OOC commands index
---
        +admin         +alias         +ansi          +award
        +awho          +beep          +duty          +email 
        +faction       +fcheck        +finger        +gripe    
        +ic            +last          +mail          +ooc   
        +oocfinger     +poll          +selfboot      +swho
        +ticks         +time          +twink         +view
        +where         +who

Note
"IC" stands for "In Character." +ic put you in the In Character world, which is a fictionalized version of our world -- there's a New York and a California, and there's also a Cybertron and a Cobra Island. While you're in the IC area, everything you do is assumed to be In Character -- so if you pose waving with :waves it's considered your character (Optimus Prime, Cobra Commander, whoever) waving, not you as a player.
When you're In Character, if you wish to say or do anything Out of Character (meaning as a player, not as a character - Optimus Prime's ICly character fighting Megatron, but OOCly his player wants to tell other players thaT he needs to pause to answer the phone in Real Life), use the +ooc command.