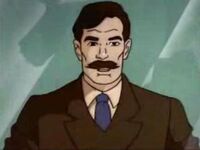 Name: Hector Ramirez
Faction: USA
Species: Human
Function: NEWS REPORTER
Division:
Sub-Group: Journalists
Type: FC
| | | |
| --- | --- | --- |
| " | I'm old, but I'm still cute and strong. And very butch. | " |
Henry Michael Ramirez, known by his television name of HECTOR RAMIREZ, is a crusading American television journalist, attorney, and former talk show host. He is known to have an affinity for dramatic, high-profile stories, and issues that are divisive in nature. Ramirez hosts the newsmagazine program Twenty Questions. Ramirez's interest in shocking exposés seems to lead him to do wherever is necessary for the sake of ratings.
History
Canonical/Pre-MUX/Theme History:
After the evil Lord Chumley stole a top secret Soviet jet, the blame was placed on the United States. Hector Ramirez appeared on TV, commenting on the new hostilities between the US and the Soviet Union erupting from this incident.
MUX History:
On September 12, 2009, during the Fox News coverage of Decepticon-caused environmental destruction, Rivera was knocked over by the storm surge debris while reporting live in Galveston near the 17 foot high sea wall.
OOC Notes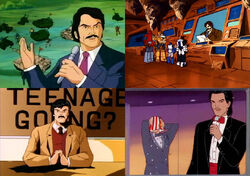 Hector Ramirez was writer Buzz Dixon's parody of the infamous "journalist" Geraldo Rivera. Ramirez was originally conceived as a returning character in G.I. Joe, but would go on to appear in other Hasbro- and Sunbow-created shows, including Jem and the Holograms and, most prominently, The Inhumanoids.
Logs / Posts
2015
2018
Players
Available for application.
In the Shattered Glass universe, Hector Ramirez is a dedicated and ethical print journalist, doing what he can to expose the atrocities of the Colton Adminstration.
References
Is this all there is?!!
---
This character article is a stub and is missing information. You can help Transformers Universe MUX by expanding it.
Community content is available under
CC-BY-SA
unless otherwise noted.