The Gulf of Mexico (Spanish:
Golfo de México
) is the ninth largest body of water in the world. Considered a smaller part of the Atlantic Ocean, it is an ocean basin largely surrounded by the North American continent and the island of
Cuba
. It is bounded on the northeast, north and northwest by the Gulf Coast of the
United States
, on the southwest and south by
Mexico
, and on the southeast by Cuba. The shape of its basin is roughly oval and approximately 810 nautical miles (1,500 km) wide and filled with sedimentary rocks and debris. It is part of the Atlantic Ocean through the Florida Straits between the U.S. and Cuba, and with the Caribbean Sea (with which it forms the American Mediterranean Sea) via the Yucatan Channel between Mexico and Cuba. Tidal ranges are extremely small due to the narrow connection with the ocean. The gulf basin is approximately 615,000 mi² (1.6 million km²). Almost half of the basin is shallow intertidal waters. At its deepest it is 14,383 ft (4,384 m) at the Sigsbee Deep, an irregular trough more than 300 nautical miles (550 km) long. It was probably formed approximately 300 million years ago as a result of the seafloor sinking.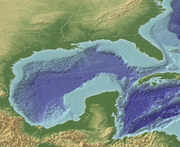 History
Cobra Island is in the Gulf of Mexico.
Community content is available under
CC-BY-SA
unless otherwise noted.