Obi-Wan Finale - The Loop
Play Sound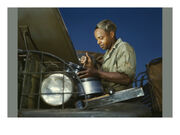 Grill is a genius mechanic. He created a number of custom vehicles and weapons for the Eagles, and is known for his ability to build or fix just about anything with a minimum of supplies, time, and tools. A sensitive soul, Grill was deeply hurt by the racism he experienced in the military, and he strongly appreciated the fact that the Savage Eagles appraised him based on his skills, not skin color. Grill was traumatized by the horrors he's witnessed in the war, and is plagued with frequent nightmares. While willing to fight to protect his unit, he is far more comfortable under the hood of a truck than on the battlefield. Since retiring, Grill serves as a consultant on various construction projects world-wide.
Bio
Pre-MUX History
Darren K. Filbert was Born in 1925 in an integrated neighborhood in Warren, OH, to Parents Darren Sr. and Rebecca Filbert. He Graduated Warren City Schools and attended one year at Youngstown College, completing bricklaying and drafting school programs. In June of 1943, Filbert was drafted by the U.S. Army. He did basic training at Fort McClellan in Alabama and advanced individual training in motor repair at Fort Benning, Ga. He had a natural aptitude for working with vehicles because he worked by his father's side fixing cars since he was a boy.
As an African American, though, Filbert's abilities didn't earn him equal treatment. He was surprised about the level of segregation in the military. When going to basic training, friends that Filbert grew up with were required to ride in separate train cars. When they passed through Cincinnati on a meal break, Filbert watched white soldiers get off the train and go into the restaurant while Food was brought to the black recruits who had to eat on the train car.
During the war, there was much debate on the role of African Americans. Secretary of War Henry Stimson openly questioned whether African Americans had the sensibilities to be combat troops. [1] That hurt Filbert, who felt that they were in the battles, risking their lives, just like every other American serving. As a U.S. Army Tech-4, Filbert served in the Mediterranean and Middle East theatre of World War II, earning the nickname "Grill." In 1944 he was chosen to join Sgt. Savage's Screaming Eagles unit.
He retired from the Army in 1987, although he remains a technical consultant.
MUX History
Grill currently serves as a consultant in Syria.
File Information
Real name: Darren K. Filbert, Jr.
Hometown: Warren
Service: U.S. Army. Tech-4
Awards: World War II Victory Medal, Good Conduct Medal, American Campaign Medal, EAME Theater Medal with five Bronze Stars.
Family: Parents, Darren Sr. and Rebecca Filbert; children, Timothy and Edith Filbert.
Education: Graduate of Warren City Schools. Attended one year at Youngstown College and completed bricklaying and drafting school programs.
External links
   Write up

Footnotes