France, officially the French Republic (French: République française), is a transcontinental country spanning Western Europe and overseas regions and territories in South America and the Atlantic, Pacific and Indian Oceans. Including all of its territories, France has twelve time zones, the most of any country. Its metropolitan area extends from the Rhine to the Atlantic Ocean and from the Mediterranean Sea to the English Channel and the North Sea; overseas territories include French Guiana in South America, Saint Pierre and Miquelon in the North Atlantic, the French West Indies, and several islands in Oceania and the Indian Ocean. Due to its several coastal territories, France has the largest exclusive economic zone in the world. France borders Belgium, Luxembourg, Germany, Switzerland, Monaco, Italy, Andorra and Spain in Europe, as well as the Netherlands, Suriname and Brazil in the Americas. Its eighteen integral regions (five of which are overseas) span a combined area of 643,801 km2 (248,573 sq mi) and over 67 million people (as of May 2021). France is a unitary semi-presidential republic with its capital in Paris, the country's largest city and main cultural and commercial centre; other major urban areas include Lyon, Marseille, Toulouse, Bordeaux, Lille and Nice.
France retains its centuries-long status as a global centre of art, science and philosophy. It hosts the fifth-largest number of UNESCO World Heritage Sites and is the world's leading tourist destination, receiving over 89 million foreign visitors in 2018. France is a developed country with the world's seventh-largest economy by nominal GDP and ninth-largest by PPP; in terms of aggregate household wealth, it ranks fourth in the world. France performs well in international rankings of education, health care, life expectancy and human development. It remains a great power in global affairs, being one of the five permanent members of the United Nations Security Council and an official nuclear-weapon state. France is a founding and leading member of the European Union and the Eurozone, as well as a key member of the Group of Seven, North Atlantic Treaty Organization (NATO), Organisation for Economic Co-operation and Development (OECD) and La Francophonie.
History
Generation 1 cartoon continuity
The Transformers cartoon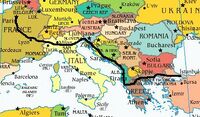 The transcontinental Europa 2000 car race started from Paris and went on to Istanbul. Secretly, it was a scam of Megatron's! A map of the race's route showed that either France is bigger in the show's universe than in reality, or the map-maker knew bog all about France's geography. Trans-Europe Express
MUX History
In 2007, IMORTAL maintained a base in France.
External links