The A-10 Thunderbolt II is an American single-seat, twin-engine, straight-wing jet aircraft developed by Fairchild-Republic for the United States Air Force to provide close air support (CAS) of ground forces by attacking tanks, armored vehicles, and other ground targets with a limited air interdiction capability. It is the first U.S. Air Force aircraft designed exclusively for close air support.
The A-10's official name comes from the Republic P-47 Thunderbolt of World War II, a fighter that was particularly effective at close air support. The A-10 is more commonly known by its nickname "Warthog" or simply "Hog". As a secondary mission, it provides airborne forward air control, guiding other aircraft against ground targets. A-10s used primarily in this role are designated OA-10. The A-10 is expected to be replaced by the F-35 in 2028 or later.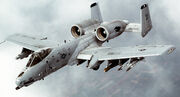 A-10s on the MUX
Autobots
Cobra
The Rattler design was also used for the following craft:
Decepticons
G.I. Joe
References
Community content is available under
CC-BY-SA
unless otherwise noted.