Executus is a Quintesson Judge. Quintessons are mysterious alien race, with ties to the origins of the Transformers.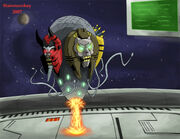 With the destruction of their homeworld of Quintessa, the Quintessons are forced to colonize much less grandiose planets such as Earth. Twisted by exile and betrayal, they are now forced to entertain themselves with mock trails, petty cruelties, bizarre experimentations and attempted subterfuges.
History
Pre-MUX History
In ages long past, a cold and emotionless race of aliens called the Quintessons created two lines of sentient robots on a planet-sized factory known as Cybertron. One was a line of robots designed for domestic duties and labor (known as Autobots), and the other was a line designed for military use (known as Decepticons). The Quintessons were exceptionally cruel to their creations, eventually leading to wide-spread rebellion, a rebellion started by the Autobot A3. The Quintessons harshly suppressed the rebellion, setting back the rebels for millions of years.
MUX History
Is this all there is?!!
---
This character article is a stub and is missing information. You can help Transformers Universe MUX by expanding it.
Players
Executus was created and is played by User:CounterMatt.
Community content is available under
CC-BY-SA
unless otherwise noted.