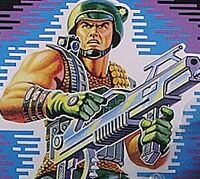 Name: Dodger
Faction: GI Joe
Species: Human
Function: Armored vehicle operation
Division: US Army
Sub-Group:
Type: FC
When driving high-tech armored fighting vehicles, it is often easy to get carried away and rely heavily on the new technology. Dodger may be considered a techno-nerd for his fascination with the latest in armored fighting technology the likes of which include night-vision, thermal imaging, Doppler radars and computer driven multi-mode displays. But to say that he depends on them is absolutely wrong. He has long been driving tanks and other tracked vehicles since way back that he relies more on guts and instinct to get by battlefield conditions.
History
Canonical/Pre-MUX/Theme History:
Dodger became an expert on the latest high tech armored-vehicle driving hardware, such as night-vision lenses, thermal-imaging range-finders, Doppler radar and more. Despite this, he is skilled enough in armored-vehicle operation that he doesn't need to rely solely on that technology to do his job.
Dodger was assigned to Battle Force 2000, where he drove the team's Marauder motorcycle-tank. During the Battle of Benzheen, five members of the Battle Force were killed, and Dodger was the only survivor. After recovering from that battle, Dodger returned to the Joe team on his own and served until the team was shut down in 1994.
MUX History:
Years later, Dodger joined the reinstated G.I. Joe team.
He is a now Reserve Member of the Team.
OOC Notes
Not a fan of the L.A. Dodgers. Growing up in Indiana, he was a Cubs Fan.
Logs
File Information
Personal information
File Name

Richard Renwick

Birthplace
Military information
Service branch

US Army

Grade / Rank
Specialties

Armored vehicle operation; Electronics; Laser demolitions

Weapon / vehicle expertise

Marauder; M-A2 S.A.W. 5.56mm machine gun; 9mm Berreta auto pistol; General purpose laser weapon; Laser pistol

Organizational information
Factions
Subteams
1st Comic Appearance

G.I. Joe #68 - "Cut and Freeze Dried"
Players
Dodger is available for Application
Gallery
External links
References
Community content is available under
CC-BY-SA
unless otherwise noted.